Welcome to a brand new year full of Staff Picks! With Staff Picks, we would like to offer recommendations from our staff to you. These picks will be from a variety of reading, listening or viewing tastes. You might find stuff you've checked out before, or you might be intrigued enough to find a new favorite.
Our first Staff Pick of the year is one of our very useful databases that came in handy when one of our own needed to change a headlight!
Chilton Library [Database]
Do you know absolutely nothing about car maintenance and repairs? Do you want to complete repairs on your automobile or be informed about the work your mechanic is proposing? If so, check out the Chilton Library!

The Chilton Library provides an easy to use database that includes information about thousands of vehicles. It is perfect for the novice or for the seasoned mechanic looking for additional information. The Chilton Library includes schematics, basic instructions, and helpful videos to get you ready for your next vehicle repair, maintenance, or modification. Whether you are a car maintenance newbie learning how to replace a headlight bulb or an expert examining transmission information, the Chilton Library is an invaluable resource.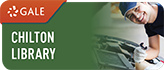 If Chilton Library interests you, feel free to use it any time. It is available 24/7. You can find Chilton Library and other resources like it on our Online Research page.
We'll be back next Wednesday with a different Staff Pick.